BECOME A PROVIDER
10 ways QUICK TAPE® can save you money & deliver satisfied patients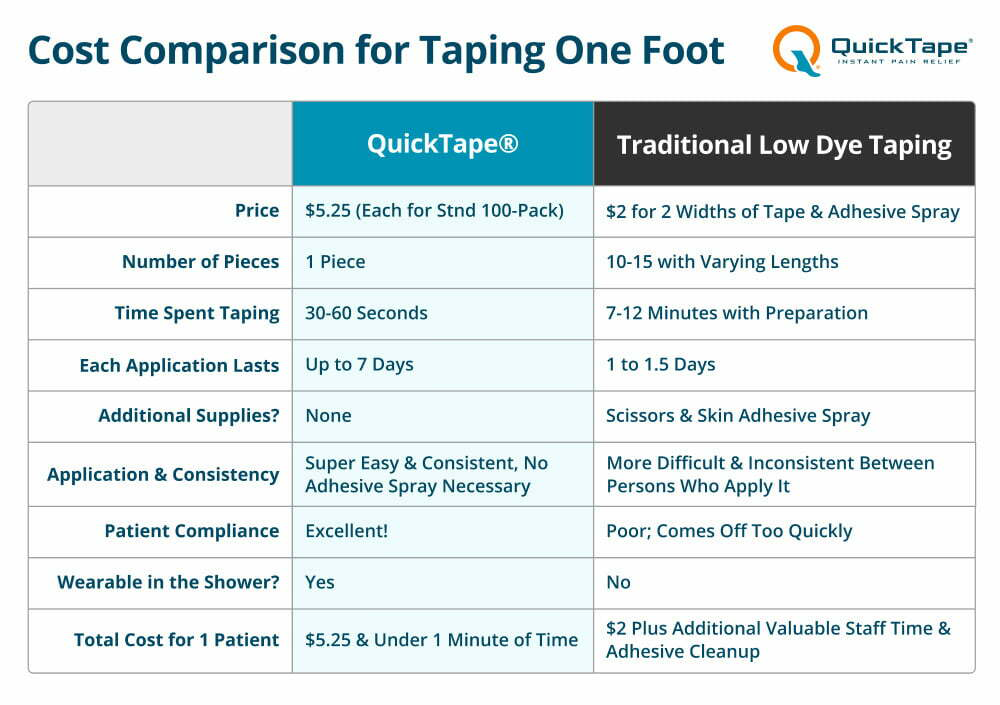 Our physician clients say their only regret was not incorporating QUICK TAPE into their practice sooner. Here's why clinics around the world are using QUICK TAPE for foot taping:
1. Save valuable practitioner time. Tape one foot in seconds with QUICK TAPE. Medical assistant training takes only seconds too!
2. Save even more time and money. Apply QUICK TAPE once compared to up to 5x for Low Dye taping, and use up to 5x less product with QUICK TAPE vs. standard athletic tape. No scissors, pads, or extra adhesives are needed.
3. Increase profitability. Use billing code 29540 for up to 73% profit margin, plus sell QUICK TAPE retail packages from your clinic & create additional profits with a 36%-55% margin.
4. QUICK TAPE can help relieve foot pain as well as Low Dye with additional clinically-proven benefits:
• Biomechanically alters dynamic plantar loading
• Provides significantly greater arch height index, arch/biomechanical support and stabilization than untaped foot
• Patients prefer QUICK TAPE comfort over Low Dye
5. Rapid relief for a variety of foot & lower leg issues, including plantar fasciitis, shin splints, knee or ankle pain, Achilles tendon pain, arthritis, and generalized foot pain.
6. Each taping lasts longer for your patient. Patients can wear the QUICK TAPE® foot strap in the shower, overnight, and during workouts for up to 7 days.
7. Safe & effective for children and adults of any age or skin type. QUICK TAPE® is made with hypoallergenic, latex free medical grade adhesive, fits either foot & comes in two sizes.
8. No mess or clean up. No more worries about ruining your clothes and exam room furniture with adhesive spray.
9. Enjoy more compliant patients. QUICK TAPE lasts longer, is easier to apply, and is more comfortable to wear than Low Dye, so patients stick to their taping protocol.
10. Virtually foolproof application your patients can do at home. The 1-piece, pre-cut QUICK TAPE design is easy for patients to apply at home between office visits.
Applying the QUICK TAPE® support strap is quick and easy!
Watch Video and read all instructions carefully before applying for maximum benefit.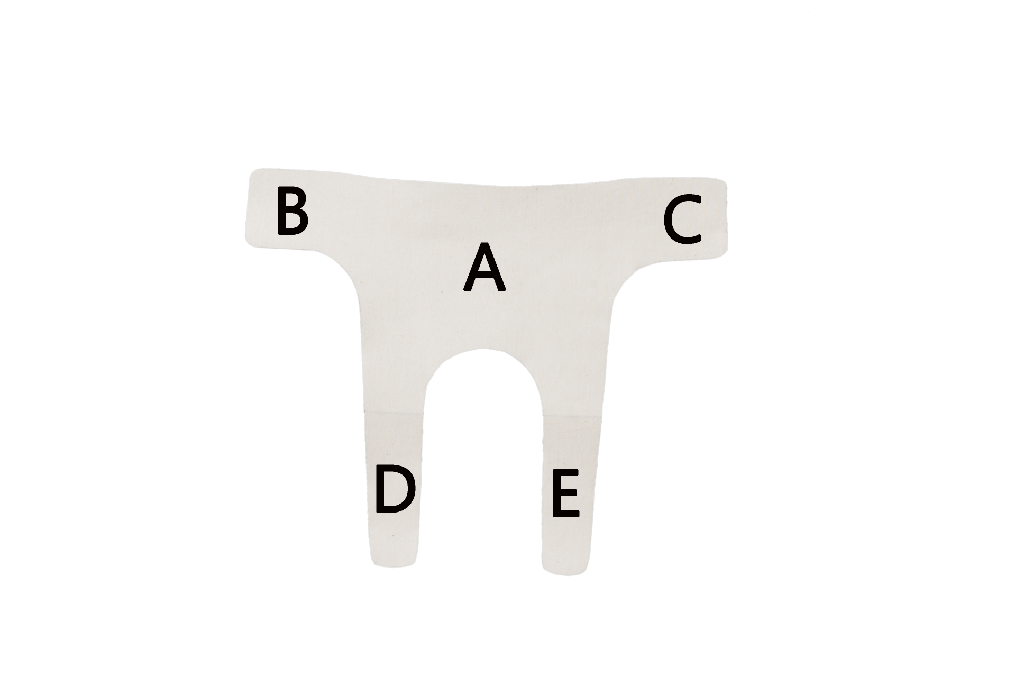 STEP ONE Make sure your foot and hands are clean and dry, no lotions, creams, oils or powders. Shave any hair from the top of the foot. While seated, place QUICK TAPE cloth-side down on a clean hard surface. Sections D and E should be pointed toward you. You can use your toes to secure tabs B and C, so your hands are free to peel off sections A, D, and E.
---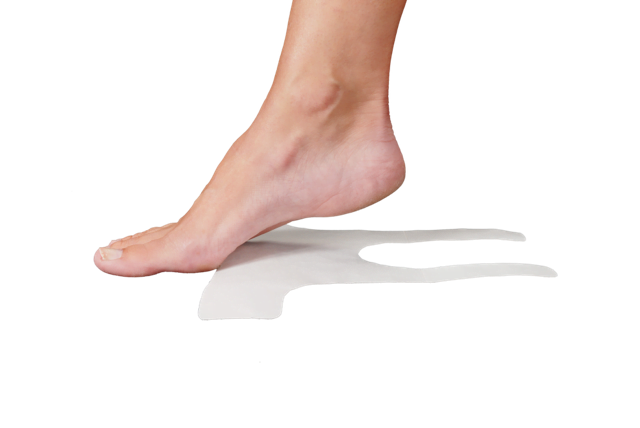 STEP TWO Place the ball of your foot in front of section A with your heel lifted. Keeping your foot centered between sections B and C, slide the strap forward until it stops just behind the big toe knuckle and small toe knuckle (The 1st and 5th metatarsal heads).
---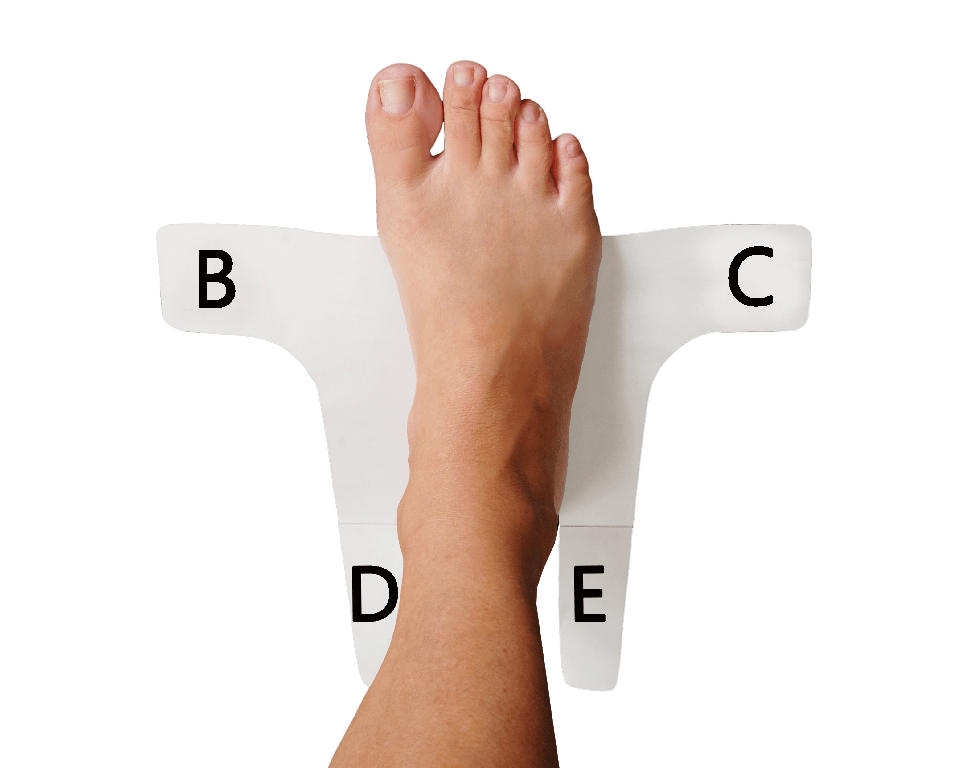 STEP THREE Set your heel down between heel tabs D and E. Remove backing from section B and C.
---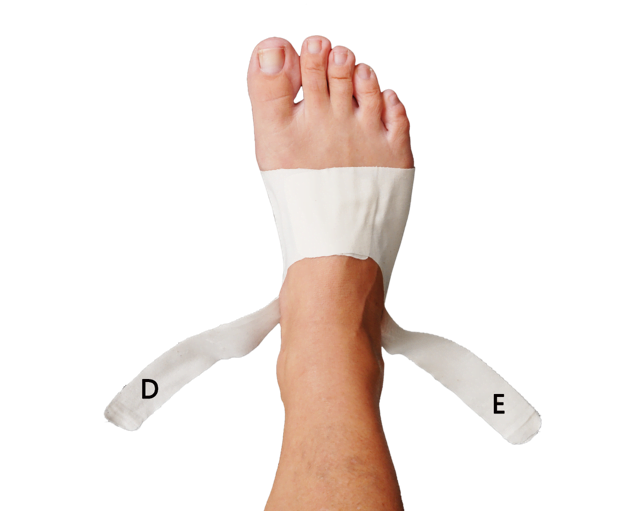 STEP FOUR While stepping down on section A, wrap sections B and C straight across the top of the foot (one overlapping the other). Do not stretch or angle these sections. Rub over the top and sides of these tabs vigorously to activate the adhesive.
---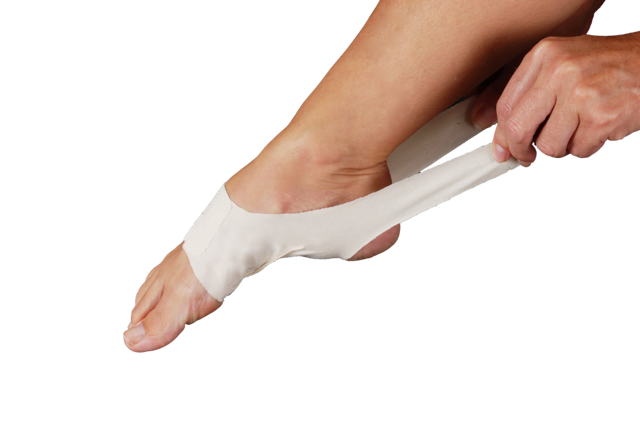 STEP FIVE Lift your foot off the floor and point your toes. While pulling back gently on sections D and E, wrap sections D and E around the back of the heel bone, with one overlapping the other. Do not wrap any higher than the heel bone to avoid interfering with the Achilles tendon.
---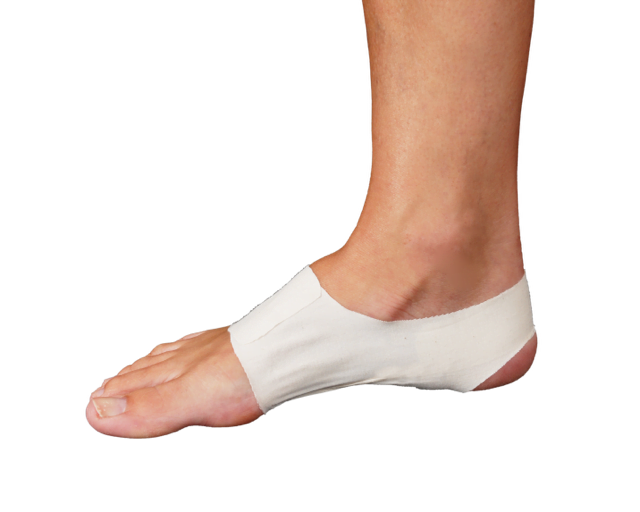 STEP SIX It is important to activate the adhesive by firmly rubbing the entire strap vigorously for 10 to 15 seconds for best adhesion. If applied correctly, pain should be absent or significantly reduced.
Dr. Dennis B. McBroom FL said: Our practice ordered QUICK TAPE for all 4 of our clinics. It's going to make our life and our patients' lives so much easier!
Dr. George Evancho, DPM, Virginia said: I am a retired podiatrist. My wife had plantar fasciitis. She responded great to the Quick Tape Foot Support Straps in a matter of weeks and remains pain free. Prior to this, I treated her in my traditional manner including 2 steroid shots with no lasting relief. I just developed fasciitis myself after a weekend on a ladder. I put the strap on this AM, already feels better !!! Really great product. Highly recommend!
Ann C. said: I am a satisfied customer; if you look up my order history, this is probably the 3rd 15-pack I've ordered and I ordered smaller numbers of them as I was testing them out for my arthritis (mid-foot – 2nd metatarsal/cuneiform deterioration).
I will likely be wearing these for many years as they truly are the only thing that gives me some relief. I am very active and only 57, so… Thanks! P.S. I've turned several friends with plantar fasciitis onto your product! Also, please keep me posted on the development of skin-tone colored straps for use with sandals in the summer!
Dr. Douglas Birch: We love using QUICK TAPE in our clinic because it works! it's so easy, our patients can use them at home too!